Chilbolton, Wherwell , Hampshire, GB

On Sunday morning of 19th of August, two really amazing crop circles were found in a field of south England next to Chilbolton radio telescope.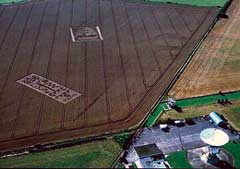 The first one represents a digitalized face, the second one is a variant of the message sent to space in 1974 by Arecibo radio telescope in the direction of M23 galaxy for the attention of a possible extraterrestrial audience.

"Face" in the wheat field near Chilbolton Observatory, Wherwell, Hampshire, first noticed
on Tuesday, August 14, 2001. The "transmission code" that followed was first
noticed on Monday, August 20, 2001 by observatory employees.
Aerial photograph © 2001 by Steve Alexander
The fact that these two crop circles with themes related to an extraterrestrial contact lie close to Chilbolton radio telescope is quite astonishing!

The design complexity of the first crop circle which represents a face excludes any possible falsification by a mystifying old man having performed a night job!

The similarity of the second crop circle with a binary-coded message sent by earthling scientists to space is extraordinary.

Both DNA structures which are schematically represented, face to face, and which appear to be different one from another (there is our original one, and a differently shaped structure) can be interpreted as a signature from another extraterrestrial civilization to the message we sent them 27 years ago.

My personal interpretation is that we have here a new evidence that worldwide crop circles phenomenon comes within the scope of Elohim's global strategy to get humans used to the possibility of a very soon contact !!!! (but of course it's only my personal interpretation :-))) )

Life is a movie. We are totally in the scenario of film "Contact"!
And I think it's only a beginning!

To be followed…

Sources:
http://www.swirlednews.com/article.asp?artID=217
http://www.cropcircleconnector.com/2001/chilbolton1/chilbolton2001a.html
http://www.cropcircleconnector.com/2001/chilbolton2/chilbolton2001b.html
http://www.akasico.com/Paginasasp/Contenidosecciones.asp?ID=1570

http://www.busty-taylor.com/cropper/2001008c.htm

www.cassiopaea.org/cass/cropcircles.htm

www.darasart.netfirms.com/story/newufo/arecibo_crop_compare.gif

Translation of the November 16, 1974 Arecibo, Puerto Rico radio
telescope binary code transmission by Cornell University astronomers
to M13 star cluster. Source: Cosmos © 1976 by Carl Sagan.

http://www.chez.com/cropcircles

Mise à jour : 15 août 2002.